Garden Silk Marketing Sdn Bhd, manufacturer and supplier of neckties and scarves to corporate clients, retailers, resellers, on-line shop site operators(e-tailers) and to any company. who recognizes the value of well designed, limited-edition ties and scarves in creating corporate identity exclusively to you.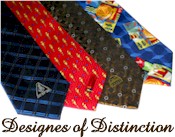 Garden Silk Marketing specializes in Custom Neckties and Scarves. We have over twelve years of experience creating Novelty Corporate Ties. We will make your Ties & Scarves Exclusively Designed and Manufactured with your logo/insignia or crest on the tie for corporate give-aways and to complete and compliment your uniforms with a professionally produced Neckwear. You may have your designs exclusively made or choose from our ready made design fashion neckwear or from our pre-designed fabric swatches.
Over the years, we've established very strong relationships with our suppliers...so we give you the very highest quality products at the very best pricing.
It's not just affordable pricing that's made our Custom Neckties so desirable. It's our creative and unique designs. Anyone can make your custom neckwear. We can design it.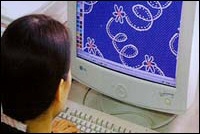 Our professional designers will assist you to realize your design ideas or we can help you with our own ideas and produce full color illustrations to give your company an impressive image.
We constantly strive to create truly trendy and fashionable neckwear incorporating logos, by carefully understanding your aims, objectives and your industry in order to create pertinent design elements & motifs, style & concept , into the necktie or scarf design.

Our list of satisfied customers includes hundreds and hundreds of Malaysia's most prestigious organizations -- We have served and satisfied Government Departments/Councils, Real Estate, Restaurants, Schools, Colleges, Universities, Clubs, Charity Organizations, Airlines, Car Rentals, Tobacco companies, Sports Teams, Duty Free & Shopping Establishments, Shipping Companies and many more..-- as well as many smaller organizations who recognize the value of well designed, limited-edition ties and scarves in creating corporate identity exclusively to you. Please take a look at Our Past Jobs
We cater for all budgets from low-cost school ties to Top quality Corporate Image neckwear by offering a range of fabrics and finishes.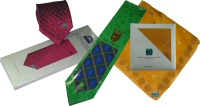 Some may want to present the ties or scarves in Gift Boxes . And because of this, we have a range of packaging choices for you to chose from, designed to compliment the product inside being very presentable either to your staff or to your customers as gifts. Also with your logo printed on it.

We also supply Related Accessories like Tie Clips and Pocket Squares, , Each of these can be made along side an order for ties, if you wish. They can also be packaged as a set with your tie.

And, of course, our executive staff is available to discuss your specific needs and answer all of your questions ...call or Email us .

Get Started, The Ordering Process is Simple. We will assist you step by step to ensure you get what you want from Idea to packaging and delivery.

Our products are:
SILK WOVEN NECKTIES
SILK PRINTED NECKTIES
POLYESTER WOVEN NECKTIES
POLYESTER PRINTED NECKTIES
CUSTOM MADE TIES - Make your own ties. Have your logo/insignia or crest on the tie for company uniforms, corporate gifts, schools, colleges, universities, clubs, organizations. Make it from any of our materials